---
OmniStand Cooling Laptop Stand
Portable and adjustable notebook computer stand provides silent and efficient cooling.
Folds flat for easy stowing within computer bags and packs.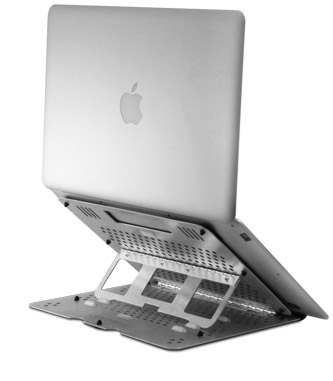 Description: RadTech's innovative and versatile OmniStand provides several important benefits for notebook computer users; an adjustable desktop and/or low counter stand, an ultra-efficient cooling aid that doesn't require power or tie up a USB port, and a compact form-factor that can be stowed in most any computer sleeve, bag or pack.

It's all in the details: Everything about the OmniStand has been engineered for maximum strength, cooling ability and versatility. The composition, thickness and surface finish of the panels; the space between computer and platform - even the perforation hole layout and placement have been optimized for maximum heat transfer. High-grip rubber isolation pads and feet, and a rubber composition-coated notebook rest / handle ensure that no metal ever touches your computer, desk or hand while carrying. This is a professional-grade tool designed for rugged, day in and day out use that will last a lifetime.

Constructed from rugged heat-dissipating 5053 H32 Aluminum alloy, OmniStand allows a notebook computer to be used as a desktop. OmniStand's five discreet height adjustments provide a total of seven ergonomically-correct working positions that alleviate neck, back, arm and wrist strain in a variety of work environments. The height adjustments also allow for precise alignment with external displays.

Always at your side: What good is a notebook cooling stand if you can't take it with you? OmniStand folds flat, adding less than 1cm to your load - and with a total mass of just 626 grams, you'll hardly notice it.
Features:
Allows a notebook computer to be used as an ergonomically-correct desktop
6 discrete height adjustments provide 7 versatile working positions
Allows for precise alignment with external display monitors
Provides ideal notebook positioning when working on low or short counters
Constructed from ultra-rugged 5053 H32 Aluminum alloy
Ultra-rugged, yet feathery light at only 626g / 22oz
Low-ferrous and non-magnetic - safe for use near magnetic media
Folds flat to less than 1cm thick for easy stowage in most any computer bag or pack
Provides efficient, power-free cooling - doesn't require a USB port or drain notebook's battery
Provides an efficient heat-sink containing over 365 sq. inches of heat-dissipating surface area
Also functions as a book stand that will easily accommodate the heaviest textbooks and manuals
Includes extra snap-in rubber cushions - customize for any application
---
Dimensions
---
Specifications
Material:

5053 H32 Aluminum Alloy

Panel Thickness:

1.8mm / 0.070in

Exterior Dimensions:

257x237x8mm / 10.2x9.3x0.3in

Weight:

626g / 22oz

Warranty:

3 years

Origin:

Designed in USA, Assy in China